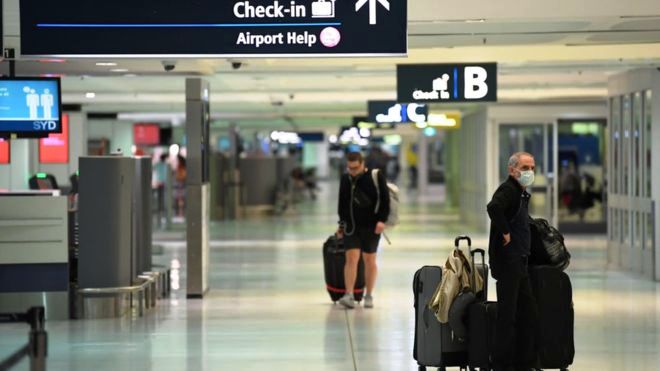 COVID-19 assistance passing through the airport
Airplanes are still flying a few international routes. But with COVID-19 still spreading, travellers are having to navigate an unccordinated, unclear, patchy, changing and awkward series of health and immigration hurdles
One sign of hope are Travel Bubbles (corona corridors, travel corridors, travel bridges, green lanes, fast lanes) and their cousin "Airport Bubbles".
Travel bubbles do away with many of the rules for travelers entering from certain countries where the coronavirus has been contained.
In a 'travel bubble' a set of 2 or more countries agree to open their borders to each other, but keep borders to all other countries closed. So people can move freely within a particular "bubble", but cannot enter from the outside.
Travel Bubbles are popping up and the idea is catching on. Countries actively considering setting up travel bubbles arrangements include Thailand, Vietnam, Malaysia, Taiwan, Hong Kong, Japan, Macau, South Korea, China, New Zealand, Australia, Fiji, Finland, Poland, Denmark, Netherlands, Austria, Slovakia, Croatia, Germany, France, Czechia, Denmark, Greece, Estonia, Latvia, Lithuania, Greece, Cyprus, UK, and Israel.
There are plenty of details to work out, like the medical clearances travelers might need to have plus tracking and tracing systems. Business travellers may need a local sponsor, to submit an itinerary, use the in-country app tracing services, and avoid public transport.
Communication of the rules is key and travellers who want or need to travel will need their company approval and /or be confidant of their own well being. This means knowing the requirements and how to meet them. A useful resource for that is here.
The risk of catching the coronavirus on a plane is low, and most of the concern is that an asymptomatic traveller unknowingly brings in the virus with them.
But what happens in the airport can be risky as was seen in the US. A set of Airport Bubbles are possible to use to ensure maximum safety when moving between the airpolane and a hotel/office. These include personal airside meet and assist, engaging trained porters to disinfect and carry checked bags, and using a COVID-safe private hire vehicle to carry
Read more about Airport Bubbles here…